Steam Train at Forfar Street, Sunderland
Click photo to view in Full Size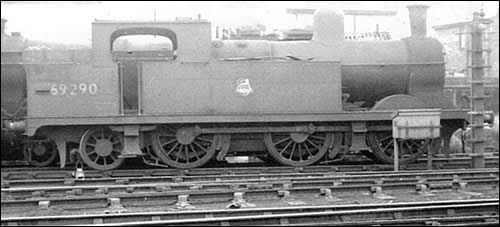 A beautiful side view photograph of a stationary steam locomotive at Forfar Street, Sunderland. Engine No 69290. Taken around the 1950's. Sent in by © Allan Edwards.

Added by Thomas Grant:-
0-6-2T N5 c1950's built for Manchester, Sheffield & Lincolnshire Railway, 129 in all (69250-69370). Two were built for Wrexham Mold & Connah's Quay Railway. Most were lost after 1954 and the last went in 1961.
If you have any additional information about this photo, please use the Contact Editor link at bottom of the page to tell me more about it. Thanks.