Rutland House Prep School Football Team
Click photo to view in Full Size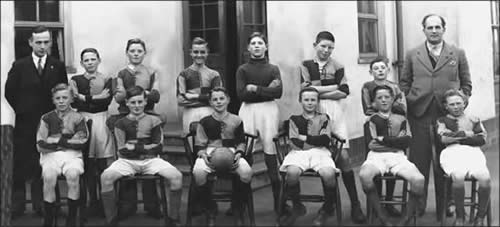 Photo sent in by Allan Fulcher, Sunderland.

Allan wrote:
The photo has been in my family since the 1930s, although none of our family recognise anyone on the photo. It does have a Sunderland connection. Written on the ball are the words Binns Ltd.

Editor:
Looking at the single breasted jackets and the fancy ties, I'd think this was a little later than 1930. It appears to be taken outside what I think is a public house, as the chairs are exactly as in the pub I once worked at. The lads look on average about 10 yrs old, so that would put them in their 80's now. Can anyone recognize any of the lads, or the football team from the shirts?

Tony Keal wrote:
This photo is almost certainly from 1953 and is the Rutland House Prep School Football team. The Master on the left is a Mr Smith and the Master on the right I think was Mr Freebairn-Smith the school headmaster. I am 2nd from right front row. The school was in Hillingdon near Uxbridge London, so not sure of the Sunderland connection.

Editor:
Thanks Tony, mystery solved. By identifying this photo, this may help anyone else searching for old school or football photos.
If you have any additional information about this photo, please use the Contact Editor link at bottom of the page to tell me more about it. Thanks.