Richard E Grant in Swaziland 1968
Click photo to view in Full Size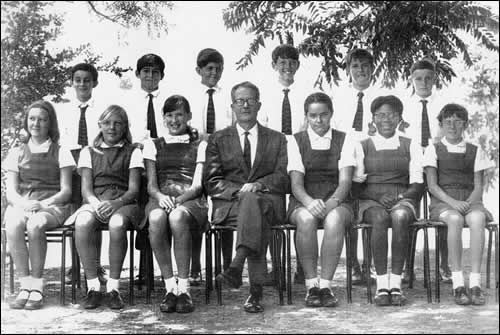 Photo sent in by John O'Shea.
John wrote:
Here is a picture of the actor Richard E. Grant (3rd from right, back row) age 11 at St Mark's Primary School in Swaziland. I was in the same year but opposite class.
Editor:
Born Richard Esterhuizen, so I guess that's why he used the 'E' in Richard E. Grant.
Anthony Brockwell wrote:
The headmaster in the picture is my dad Trevelyn Brockwell who incidentally taught Richard Esterhuizen's father Hennie Esterhuizen in the 1940's at Goedgegun. When this photo was taken, Hennie was Director of education in Swaziland.
If you have any additional information about this photo, please use the Contact Editor link at bottom of the page to tell me more about it. Thanks.