Steam Train in Sunderland Station
Click photo to view in Full Size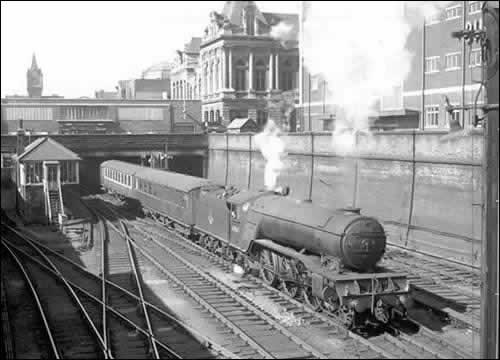 A great photograph of a locomotive (Engine No. 60962) in Sunderland Central Station, taken on the 18th May 1959. Sent in by © Allan Edwards.

Added by Thomas Grant:-
2-6-2 V2 Express out of Sunderland c1957, Class V2 Gresleys "Green Arrow" class introduced 1936 for Mixed Traffic but mainly used on express trains. 6'2" wheels, 3 cylinders. Except for 60800, now preserved as LNER 4771 "Green Arrow" V2. (60800-60983) were withdrawn between 1962 and 1966.
If you have any additional information about this photo, please use the Contact Editor link at bottom of the page to tell me more about it. Thanks.