The Bedlington Cargo Ship
Click photo to view in Full Size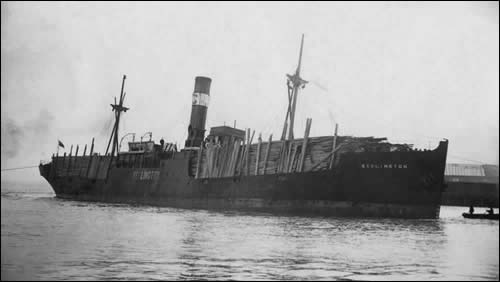 A photograph of the Bedlington Steam Ship from around the 1920's carrying a cargo of wood. Sent in by © Jacqueline Pratt.
John Watts wrote: If she is the ship that I think, she was built at Barrow-in-Furness by the Barrow Shipbuilding Company. Launched: 15 January 1884, Owner: Stewart & Co. Length overall 240 Feet, Beam: 34 Feet, Depth: 14 Feet, Engines: Steam.
John later wrote: I now believe that the ship Bedlington in the photograph is the one built in 1872 by Coulson Cooke, Wallsend (a forerunner of Swan Hunter). Barrow Shipbuiilding's Bedlington was scrapped in 1894.
Clive Ketley wrote: The photograph of the Bedlington is not the 1872 one as this ship has stockless anchors which did not come into general use until the early 1900's.
Clive wrote: I've found this information from the Clydesite database which seems to fit your picture of the Bedlington and the G on the funnel would in line with Gjemre Newcastle. The dates 1926-1932 would fit with the picture date of 1920s.
SS FORESTHILL built by Barclay Curle & Company Glasgow, Yard No 605
Engines by J G Kincaid & Co, Greenock
Last Name: DONETZ (1935)
Previous Names: BEDLINGTON (1926), LAURITZ (1932)
Propulsion: Steam triple expansion T3cy 169nhp 1scr
Launched: Thursday, 11/09/1924
Built: 1924
Ship Type: Cargo Vessel
Tonnage: 1600 grt
Length: 250.5 feet
Breadth: 39.7 feet
Owner History:
1924 Forest Shipping Co (Mann McNeal), Newcastle
1926 Northern Steanship Co (Gjemre & Co), Newcastle
1932 O/Y Erling Steamship Co (K Hansen), Helsinki
1935 Sovtorgflot, Leningrad
Status: Went Missing After 29/12/1935
Remarks: Laid down 1920 at Lloyd Royal Belge SA, Antwerp (Yd 27) as ARAGONIER but not completed. Sailed Leningrad for Hamburg 29/12/1935, missing, possibly struck a mine south of Styrsudd.
If you have any additional information about this photo, please use the Contact Editor link at bottom of the page to tell me more about it. Thanks.