Steam Train at High Shields
Click photo to view in Full Size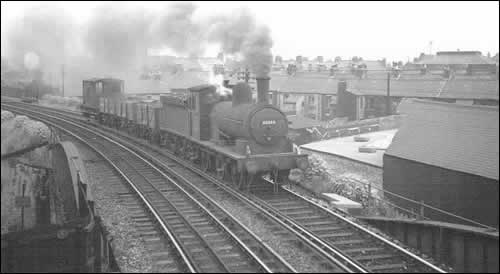 A very dirty looking steam locomotive at High Shields, Engine No 65666. Taken in 28th June 1957. Sent in by © Allan Edwards.

Added by Thomas Grant:-
0-6-0 J25 on light freight c1957. Wordsell design for North Eastern fits between J24 and J26 in size, 4'7" wheels 4'3" boiler, purely freight engine (no continuous brakes). Series started with 65645 built 1898 and finished with 65728 built 1902. Ten lasted until 1961 but were all gone by 1962.
If you have any additional information about this photo, please use the Contact Editor link at bottom of the page to tell me more about it. Thanks.