D-Day (The Longest Day)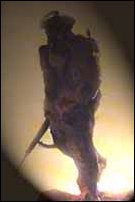 In the early hours of a grey wet morning on the 5th June 1944 a decision was taken that was to change the face of the twentieth century. The largest invasion force the world has ever seen (Operation Overlord) was launched which resulted in the liberation of Europe.

Within hours, more than 130,000 men aboard nearly 7,000 ships began assembling off the Isle of Wight at an area code named 'Z', better known to the soldiers and sailors as 'Piccadilly Circus'.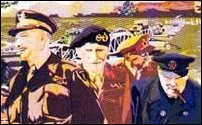 By sea and by air throughout the rest of the day, the invasion force gathered momentum. Over 1,300 transport planes and 3,520 gliders eventually took to the skies carrying soldiers, paratroopers and supplies in an operation which had taken 3 years to plan.

Those involved in this victory will never forget its sorrows and triumphs. By 6.30 am on the following morning on the 6th June 1944, allied troops were going ashore on the Normandy beaches, in the first successful invasion across the English Channel since William the Conqueror in the year 1066.

The beginning of the end of World War 2 was now finally underway.