Pizza Topped Jacket Potatoes
Ingredients
2 Medium Baking Potatoes
4 Tablespoons Tomato Ketchup
30g (1oz) Pizza Pepperoni
6-8 Small Mushrooms (sliced)
55g (2oz) Grated Mozzarella Cheese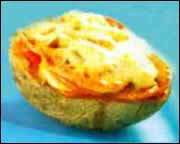 Method
(1) Adult to bake potatoes and cut in half.
(2) Adult to preheat grill to a moderate temperature.
(3) Spread the tomato ketchup over the potatoes, pile on the Pepperoni, sliced mushrooms, then sprinkle the grated cheese on.
(4) Adult to grill the potatoes for about 5 minutes until golden brown.
Use Ctrl + P to print just the recipe text only.